Ilse Villasenor named 2016 Youth of the Year for Boys
&

Girls Clubs of Portland
JACK, WILL AND ROB BOYS & GIRLS CLUB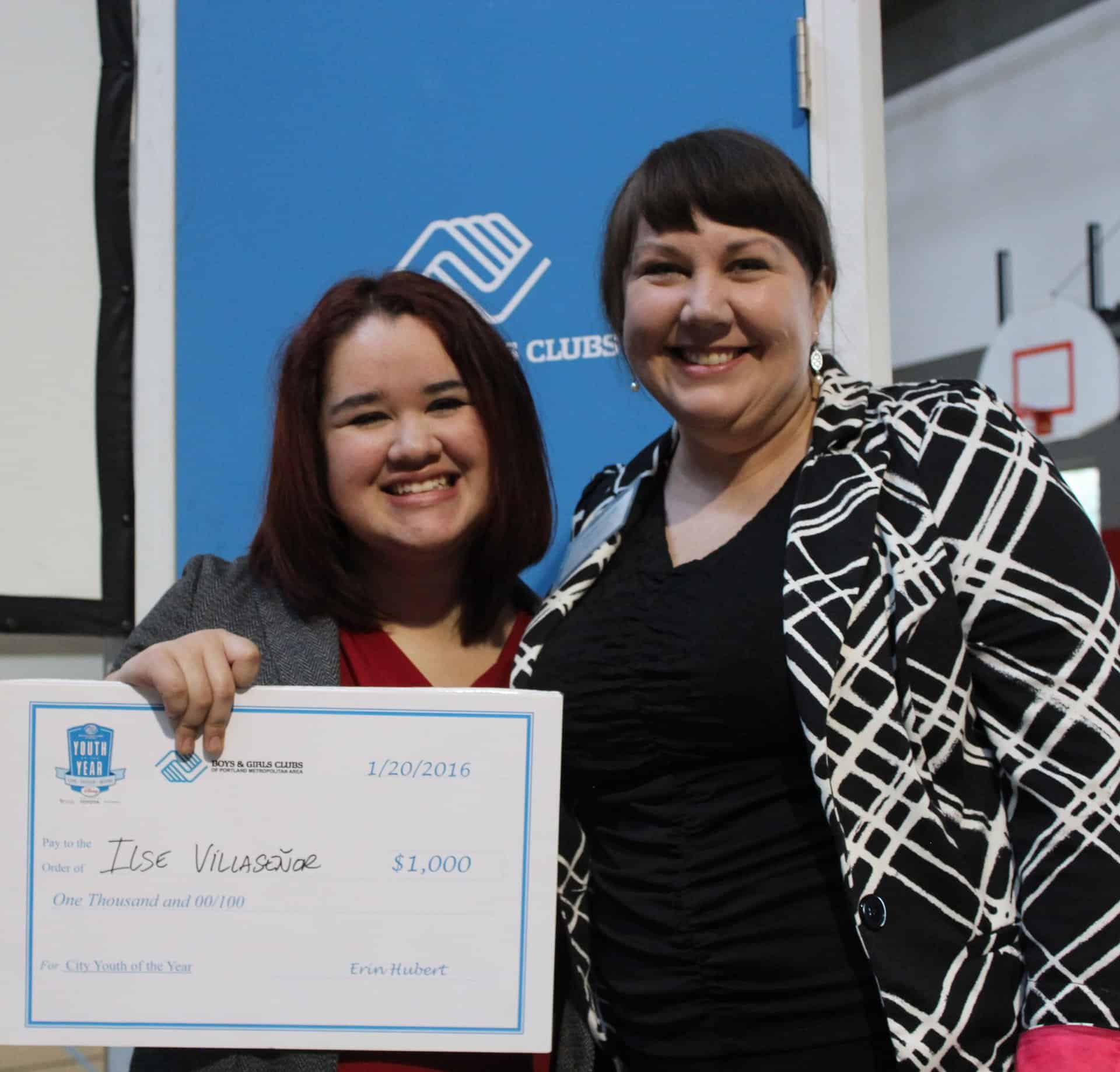 Ilse Villasenor, a senior at Hayes Freedom High School and 11-year member of the Jack, Will and Rob Boys & Girls Club in Camas, Washington, was selected as the Boys & Girls Clubs of Portland Metro's 2016 Youth of the Year at a breakfast on Wednesday, January 20, 2016.
The two-day Youth of the Year selection began at an event hosted by KeyBank at the KeyBank Club at Providence Park. A panel of judges representing the Timbers & Thorns, Providence Health and Services, and UPS heard speeches from each of the six Metro Area Youth of the Year candidates, conducted one-on-one interviews, and then announced the winner at a breakfast the next morning hosted at the Blazers Boys & Girls Club on MLK JR. Blvd.
"As an immigrant to this country, the first time that I walked through the doors of the Club I knew nothing about American culture and was suffering from culture shock," said Villasenor. "The Boys & Girls Club was the first place that welcomed me as their own from the beginning. The Club has given me what many other people in my life have never given me; opportunity."
Ilse and her family immigrated to the US at a young age and quickly found refuge at the Boys & Girls Club. Ilse is a leader in her Club and at her school, logging more than 300 hours of volunteer service this past year. In the Club, she helps run activities for younger Club members like yoga and Zumba, and has taught a six-week Spanish class to 2nd and 3rd graders in the Club.
Along with the title, Ilse received a $1,000 scholarship and will continue on to represent the Portland Metro Clubs at the Oregon State Boys & Girls Clubs Youth of the Year competition in April to be held in Portland. She plans to attend Clark College and aspires to be an English Teacher.
Throughout the year, Portland-Area Clubs select a Youth of the Month. From the Youth of the Month candidates, a young person is chosen to represent their local Club as Youth of the Year. Ilse competed with five other outstanding Club members representing Club communities from around the Portland Metro Area. Other finalist included Monya Fitz-Colbert (Blazers Boys & Girls Club in NE King Neighborhood), Samantha Arroyo Villanueva (Inukai Club in Hillsboro), Ian Pederson (Meyer Memorial Club in Sellwood), Andrea Alvarado (Regence Club in New Columbia), and Tyler Austin (Wattles Club in Lents). All five runners-up received a $500 college scholarship.
ABOUT YOUTH OF THE YEAR: Established in 1947, Youth of the Year is Boys & Girls Clubs of America's premier recognition program for Club members, which promotes service to Club, community and family; academic success; strong moral character; life goals; and poise and public speaking ability.
"The Boys & Girls Club was the first place that welcomed me as their own from the beginning. The Club has given me what many other people in my life have never given me; opportunity."