Boys
&

Girls Clubs of Portland Metro Breaks Ground at New Club in Rockwood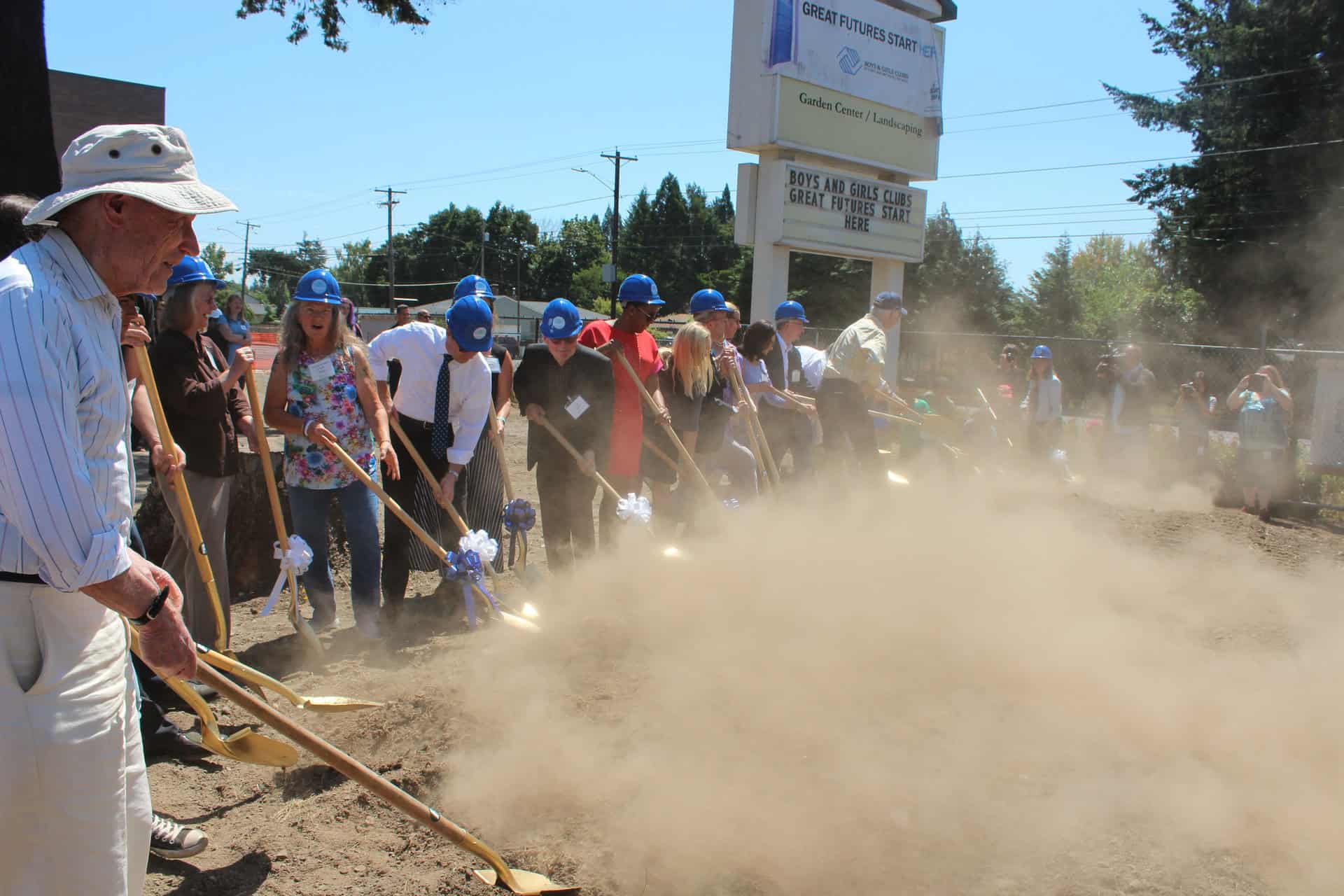 On July 21st, Boys & Girls Clubs of Portland Metro (BGCP) held a groundbreaking ceremony at its new site in the Rockwood neighborhood of Gresham. Community and business leaders, Club staff and families joined together to hear about the vision for the new facility and helped put the first shovels in the ground. Gresham's Mayor Shane Bemis, Oregon State Senator Laurie Monnes-Anderson, Oregon State Representative Carla Piluso, and a representative from US Senator Ron Wyden's office were on hand to speak to the value a Boys & Girls Club brings to the community and its youth.
Former Police Activities League Center (PAL) youth, Chelsey Francis, and former PAL staff member, Mathias Mauk, spoke about the void left in that community when the Center closed and the community's excitement for the new Club. BGCP's 2015 Youth of the Year, Bryan Gastelum Plata participated in the program and shared the positive role the Clubs have played in his and his family's life.
The new Club will be located in the center of the Rockwood neighborhood at the corner of southeast 165th and Stark Street. Open School East is building on the site and will be complete this summer. Open School will share the Club's gym and kitchen facilities. New Avenues for Youth will lease space in the Club. The ultimate vision will include a campus of youth services to provide a unique collaboration of much needed wrap-around services for kids and families' ages zero to adult. 
"This campus of services,  including Friends of the Children just blocks away, will provide a valuable continuum of coordinated services so no child falls through the cracks," said Erin Hubert, CEO of Boys & Girls Clubs of Portland Metro.
BGCP's Catalyst Campaign for Rockwood is an $11.6 million effort created with three intentional priorities to include $9.4m to construct the new Club facility, $1m to endow a maintenance reserve that will ensure the facility will continue to function optimally for years to come, and an additional $1.2m for operations, which is equal to three years of operational capacity for new the Club. Early supporters of the campaign include the State of Oregon, the Bill & Ann Swindells Charitable Trust, Precision Castparts, Nike, The Epping Family Foundation, The Johnson Charitable Trust, The Collins Foundation and the M.J. Murdock Charitable Trust, the Oregon Community Foundation, the Joseph E. Weston Public Foundation, Fred Meyer, The Standard, and the Comcast Foundation.
If you'd like to support the project or learn more, please visit our Catalyst Campaign site.