Make a donation to the Rockwood Capital Campaign before June 30, 2017 and the Maybelle Clark Macdonald Fund will match your donation!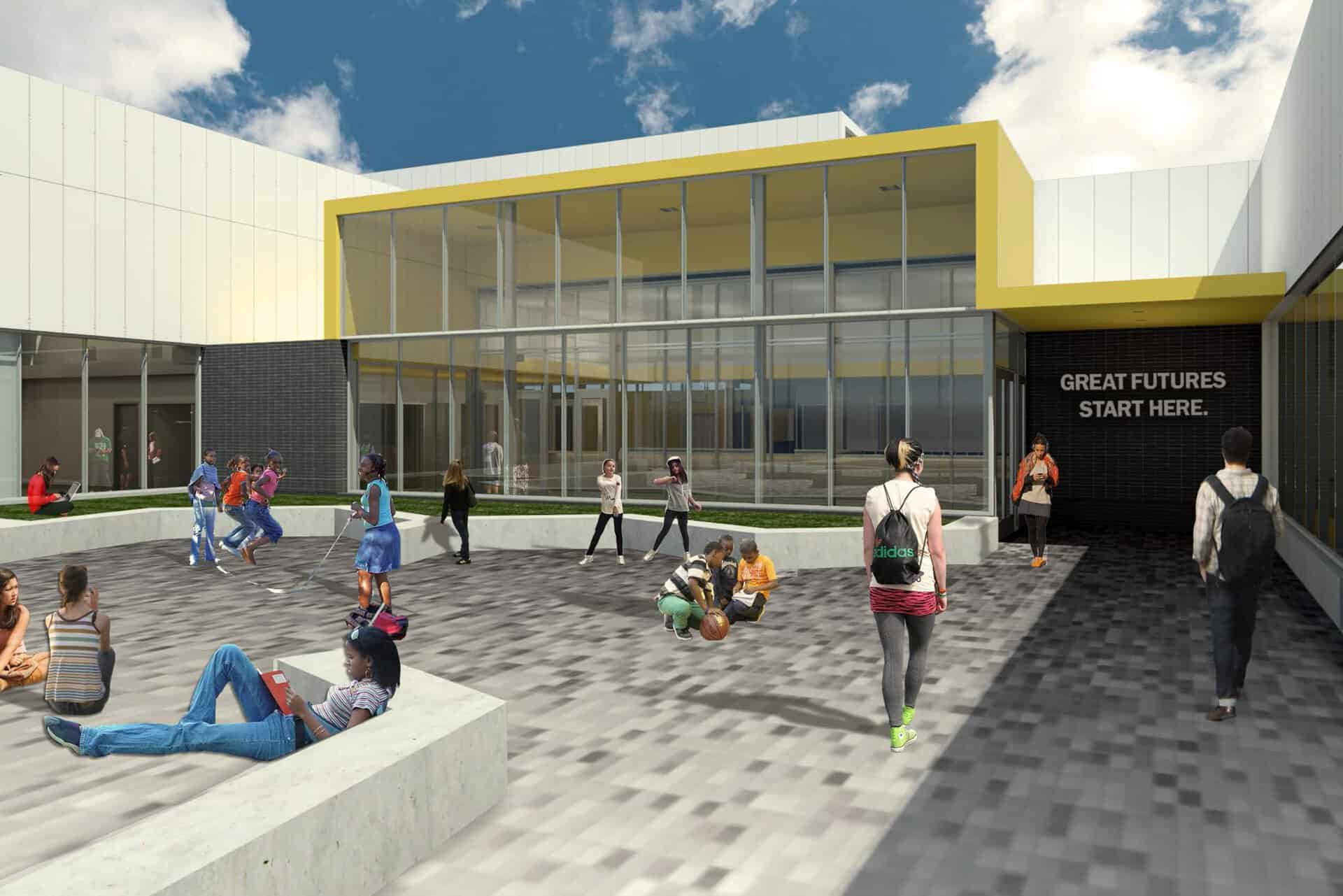 Coming this fall to SE 165th & Stark
This fall, the Rockwood Boys & Girls Club will open its doors to provide youth with a safe, supportive environment to learn, grow, and thrive after school and in the summer.
The Club, designed specifically for Rockwood youth, will feature learning, innovation, and activity spaces for youth 6 to 12 years of age and will have a stand-alone center for teens, ages 13 to 18.
A Full Campus of Services
The Rockwood Boys & Girls Club will share a 4-acre campus with youth development partners dedicated to providing wrap-around services for youth and families.
These partners include:
A Case for Rockwood
Rockwood is positioned at the meeting point of the City of Gresham's westernmost boundary and Portland's northeastern border. The Community of Rockwood has become one of Multnomah County's most diverse communities celebrating rich cultural and ethnically diverse populations.
The Rockwood community, in east Multnomah County, has the largest population of youth under 18 in the Portland-Metro area, yet is critically lacking in youth services.
The Rockwood Boys & Girls Club will bring a state-of-the-art facility that will serve as a community hub for youth and families.
Road to Rockwood
As a result of the unexpected closure in early 2013 of the Police Activities League (PAL) Center, the only youth service program of its kind in Rockwood, and the subsequent loss of youth programming in a community with great disparity, BGCP immediately stepped in.  The organization raised the needed funds to secure two years of operational funding to support the transition of the PAL youth to school-based sites in a partnership with the Reynolds School District.
After identifying the significant void in youth services and the tremendous need for facility-based programs that offer educational, recreational, and social development, the City of Gresham identified a new Boys & Girls Club as a catalyst for positive change in Rockwood.
$6 million of $9 million raised
Make a contribution to the Rockwood Boys & Girls Club
Early Investors
Our thanks to the following champions who have invested in our efforts to build great futures for the youth in Rockwood.
Ann & Bill Swindells Charitable Trust
The State of Oregon
The Collins Foundation
Larry & Jeanette Epping Family Foundation
Joseph E. Weston Public Foundation
Wyss Foundation
Legacy Health Systems
Portland General Electric
The Standard Employees
Comcast
Dussin Family Trust
Catalyst Campaign Leadership
Erik Krieger, Campaign Co-Chair; Partner, Riverlake Partners
Mike Reese, Campaign Co-Chair; Retired Chief of Police, City of Portland
Ashley Campion, Helen K. & Arthur E. Johnson Foundation
Betty Dominguez, BGCP Board member, East County Program Director, Home Forward
John Herman, BGCP Pacesetter Chair; Strategic Partner, Veber Partners
Judge Keith Meisenheimer, BGCP Board member; Retired, Multnomah County Circuit Court Judge
Ken O'Neil, BGCP Board member; Retired
Build Great Futures With Us
Building the Rockwood Boys & Girls Club is not possible without support from the community. Your gift will give Rockwood youth access to critical services, caring staff, and a place to belong and have fun.
Interested in learning more about the project or want to invest? Contact Traci Rose at trose@bgcportland.org or at 971-803-7758.
Looking to register a member?
Membership information for the Rockwood Boys & Girls Club will be available in late summer. If you'd like to receive updates, please sign up for our email list.